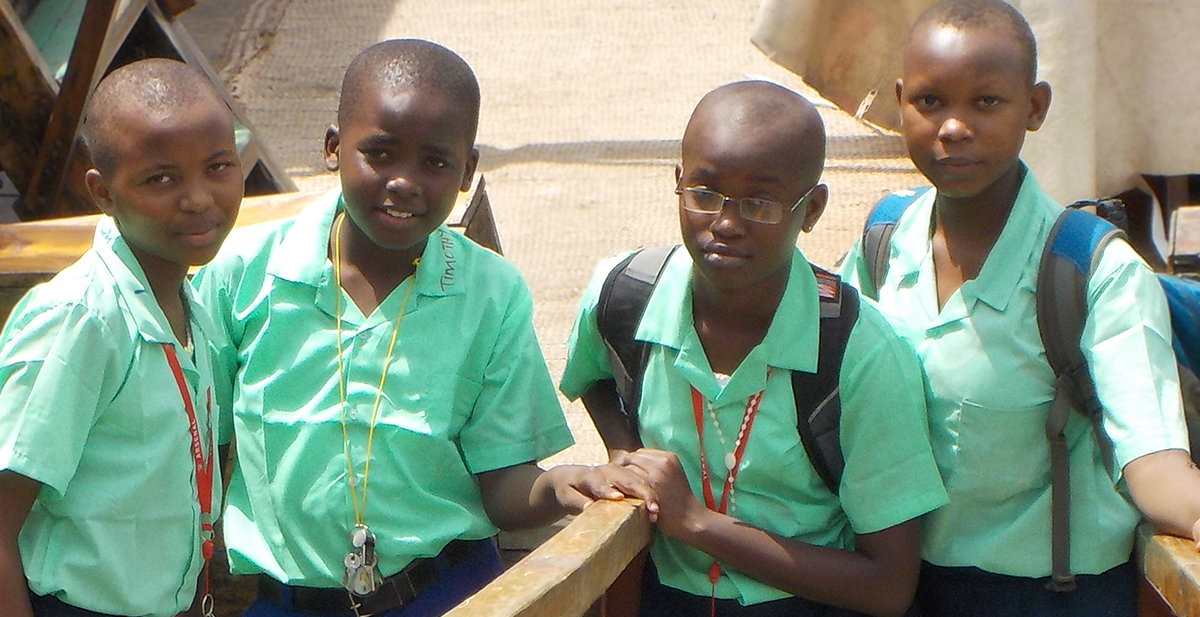 "Lack of education is one of the main reasons for the unending cycle of poverty in these communities. Many programs out there sponsor children with high marks. At Elimu, we believe every kid deserves a decent education and so we try to help average students whose parent or guardians cannot, for whatever reason, afford to keep them in school. Sometimes it's a simple and affordable step like buying a set of uniforms. Other times, it means taking on the long-term payment of school fees." — Nina Chung, Founder
Keeping Kids in School
With our Stay in School Project, children remain in their existing living environment under the care of their current parent or guardian. The caregiver continues to be responsible for the housing and normal daily needs of the child. Elimu steps in to keep the kids in school.
This project targets vulnerable children and youth living in impoverished conditions. High school fees in Kenya are significant by local standards and create the greatest challenge for parents. Yet without a secondary school certificate it is almost impossible to get a decent job in Kenya these days. Although primary school is considered "free education", there are in fact a variety of regular expenses. Parents share the burden of paying salaries for teachers hired by the school to fill the lack of teachers covered by government funding. Most major repairs or building projects are funded by parents contributions. Along with other expenses, parents must provide their children with school uniforms. Many children drop out when parents fail to pay, or interrupt their studies while parents struggle to find funds.
A Glimpse into Our Students Backgrounds
A teenage boy with an alcoholic father, wakes up one morning to find that his Dad, in a drunken fit in the night ,has taken his school bag (along with his all his notes) to stuff his clothes into. He boarded a bus sometime in the night and is miles away beyond Nairobi (never to return). His Mum is left to fend for him and his two sisters. It's Term 3, the school fees have run out and he's faced being thrown out of school. Elimu stepped in paid the school fee debt and kept him in school through to graduation. He scored a C+ average in final exams. Today he works at a local hardware shop and hopes to take himself to college one day.
A young woman in her last year of high school is forced from her village when violence erupts between her community and the neighbouring tribe. Along with hundreds of others she flees to Malindi to seek refuge. She ends up being housed at Heri Ministries Sewing College (which turns its compound into a makeshift refugee camp). During her stay she meets Nina Chung of Elimu. Nina sees her spunk and lively spirit despite her desperate state and sets her up as a "medical assistant". She makes rounds daily distributing vitamin supplements as she checks the health of mothers and children and reports back. When her exam results come out she is disappointed. She asks Elimu to take her back to school to improve her grade. We agree and put her back to Grade 11. This time at graduation she achieves C- (enough to take her to college). She immediately gets a short-term job with a local government project in her area. Later that year, she approaches Elimu with the acceptance letter she's just received for a business diploma course in Mombasa. She is the first young women in her community to graduate high school. We readily to agree to assist with her college studies.
A father with five children is doing well and making ends meet. Suddenly his brother and sister-in-law die leaving him in charge of five small boys. Going from a household of seven to twelve shakes his world. He no longer is making ends meet and can't keep all of these children in school. Elimu steps in takes on the nursery and primary school expenses for the five nephews and provides a small stipend to cover uniforms, shoes and school supplies. The family is back on its feet and all of the children continue their studies.
Cases and conditions are very individual and needs can vary greatly. Sponsorship generally covers high school education at established government schools but can also involve covering costs at nursery and primary school. Each sponsored student is reassessed on an annual basis. We also provide bursaries to cover short-term or one-time expenses such as a set of uniforms, exam registration fees or a past debt of school fees to reduce the burden on parents and keep students in school. We also consider basic medical assistance and provision of important items like mosquito nets to keep kids healthy.
How Does Your Contribution Help Keep Kids in School?
Two sets of high school uniforms cost around $125.
Boarding supplies cost around $200 per year for one student.
Just $25 buys a pair of school shoes.
Even $2 provides a mathematical set for one child.
Nursery school fees cost be as little as $45 per year.
Primary school costs from $300 per year with boarding.
High school boarding fees start from $500 per year.
Figures are based on an average conversion from Kenyan shillings at current prices.