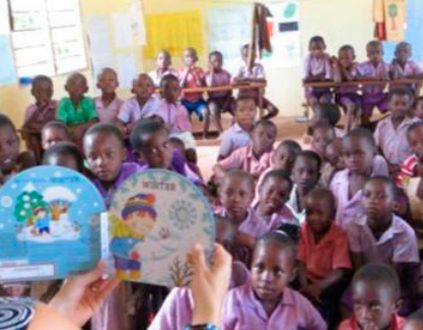 Blessings of the Holiday Season!
New Elimu Holiday Gift Catalogue
This holiday season we're offering a new way to support our projects in Kenya.
We've packaged some of the most common needs from our projects under specific price ranges. You can select your price range. Each prices range lists a few items such as educational needs like school uniforms, or nutritional needs like a sack of beans or rice, or health needs like a pair of glasses.
There is also a category that allows you to give any amount you wish. From that category, we will put your donation towards costs like school fees, boarding expenses, remedial tutoring, transportation to/from boarding schools or items needed for our sewing project.
You can purchase these gifts on behalf of friends and family this holiday season. Your gift will give twice over! You'll help us keep children healthy and in school. And, you'll bless your friend or family member with the knowledge that here in Kenya children are continuing their education with your help.
Here are the gift options you'll find on our website
Educational needs such as a pair of leather school shoes, one uniform or 3-4 textbooks for one child.
Nutritional needs such as a sack of Beans or Rice. Or, medical needs such as a pair of glasses. Or, school fees for one primary day school student.
Exam fees and an exam kit for one sewing college student or one month of fruits and veggies for Nyumbani Kwetu Children
Home for the Holidays
Schools are closed for the year. So kids are home at Nyumbani Kwetu or with their families from our School Sponsorship Project. For us at Elimu it's not holiday time. We'll spend these weeks meeting with all of our children to review their performance at school over the year. We'll be arranging remedial tutoring where needed. It's time to look ahead too. Some of our kids will be changing schools. We'll be planning for all the school fees, textbooks, stationery supplies, boarding needs and transportation expenses for the first term (starting January 6, 2015).
The Gift of Independence
Elimu had nine sponsored students at Heri Ministries Sewing College in 2014. Six of those graduated in December after sitting their national trade certification exams. Before they leave school, each will carry with her a brand new treadle sewing machine and table. They'll return to their home villages with these extremely valuable gifts able to start up their new sewing businesses immediately. With schools across Kenya opening in January, it's a great time of the year to start a sewing business – every student in the country needs school uniforms.
Two More Graduates at Nyumbani Kwetu
At Nyumbani Kwetu, our home for children, we have our second high school graduate. We'll be mentoring Ibrahim towards a future career over the coming months. His sister, Sarah, graduated last year and is currently pursuing a computer course at a college in Mombasa. Eliza has graduated from Grade 8 and we will be preparing her for high school (she'll be reporting in February 2015). At Nyumbani Kwetu the holidays will include time for remedial tutoring and visiting friends and family.
Keeping Our Kids Safe in Malindi
There has been an increase in violent attacks in Kenya this year (terrorist activity from the unrest in Somalia). This has once again decimated the tourism industry, which Malindi relies on for its economy and it's caused another increase in the cost of living. The situation brings with it a great increase in police and military presence especially at night. While this heightens security for the general public, it is actually a danger for our young people. Single teenagers or groups of youth found out at night with no very specific purpose can easily be arrested and locked up for the night. Parents are called in the morning to bail them out. So most families require their children to be home by nightfall. With Kenya on the equator, nightfall arrives around 7pm. Imagine telling your teenager or 20 year old that they have to be home by 7 or 8pm every night? It's what we do at Nyumbani Kwetu – and most nights that's what happens!
Upendo Management Training Continues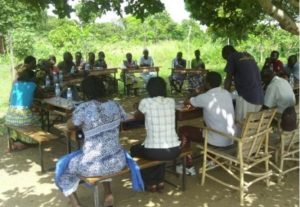 Two years ago, we hosted the first management training seminars for Upendo Early Childhood Development Center. That was a year before the school was finished. In November 2014, we held a series of follow up sessions with the founders of the school, teachers and parents. They reviewed the School Development Plan that had been created in 2012 and updated it to cover the next three years.They identified and addressed issues requiring more attention during this transition from a small nursery school project run by Upendo Self-Help Group to a government registered ECDC with nursery school levels and Grade One. The seminar was run by the same facilitator who lead the 2012 sessions. It was well received by participants and fruitful.
Warm gratitude for another year of generosity and caring. With your support we are not just brightening the holiday season but the future. Thank you!