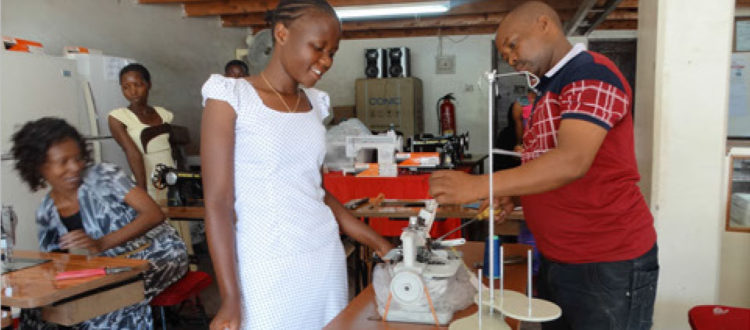 Elimu Event Honours Italian – Canadian Seamstress
At Elimu's Digital Fashion Show in November, 2017, we were proud to offer first prize in honor of Maria lerullo, a shining example of sewing skill and entrepreneurship. Sponsored by her daughter, Angela, first prize was a new interlock sewing machine (also foot pedal powered). It was awarded to Mercyline Kalama for the best designs presented during the fashion show. The criteria were based on fabric choice, design creativity, innovation and presentation. The machine is a valuable asset for her new sewing business.
Most of the students of Elimu's sewing project come from rural areas where there is no electricity. The foot pedal operated machines offer the versatility and ruggedness required for that environment. The young women gain business skills, training in women's and men's clothing design and digital proficiency to use the internet for further learning and researching creative fashion ideas.
Like Angela Parrotta and Maria lerullo of Canada, the students of Elimu's sewing project gain independence and become role models in their communities. During her lifetime, Maria lerullo did a great deal for the community she lived in. Before her death, she was honored for her many community initiatives. For her daughter, Angela, linking her mother's spirit of giving back to the community with the lives of vulnerable young women in Kenya truly resonates.
A community activist herself, she sees a passing of the torch in this simple but meaningful event. It is for her a clear indication of how lives are connected and how women unified in purpose can positively impact the lives of other women, even across the globe.
Angela said, 'It seemed a small gesture, however one can see the circle of love continue and how that love flows from my mother's spirit and to present and future spirits. She was a woman of strong faith and she often said 'God's eyes we are all one'. She strived to make that a reality in her daily life."
Maria lerullo's example continues to motivate and to impact lives.