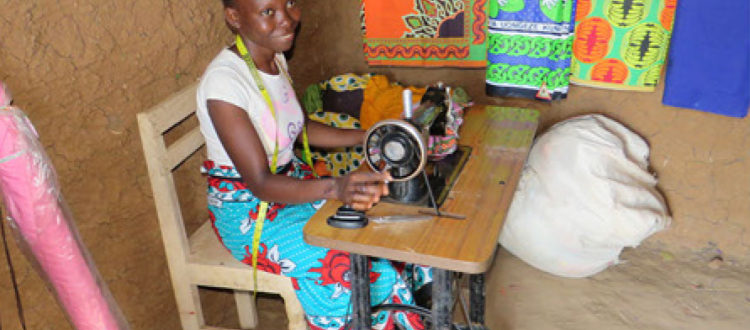 Elimu Sewing Graduate – Mary Lewa, Her Sewing Business Brings Successful Livelihood
Mary is a happy and confident young business woman. She lives with her partner and they have one child. Her partner accepts her business activity and the fact that she is an income generator for the family. Many other young women in rural Kenya are forced to stop working once they marry or begin living with a man, even when the man has no formal work and this means living in poverty!
Mary graduated from Elimu's Sewing Project in 2015. With income from her sewing business she has built a three-room traditional adobe mud house. They rent out two rooms and use the middle one for her workshop and their sleeping quarters. There is a separate outhouse that serves as the kitchen and store room. Thanks to her income from sewing, they own livestock and a plot of land to farm for their own food supplies. There are clothing items on the rack, that were awaiting customers to collect them. She also has a good selection of colorful fabrics to sell.
Mary is grateful for the sewing machine and tailoring business she gained through support from Elimu and has made great use of them as an entrepreneur to provide for her little family.
Inspired to help more young women like Mary? Please visit www.Elimu.ca to read their stories and to donate to their success.